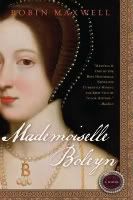 Title: Mademoiselle Boleyn
Author: Robin Maxwell
Reading level: Adult
Paperback: 355 pages
Received
From: I Bought it
Publisher: New American Library/ Penguin Group
Genre: Historical Fiction
Cover: B-
Overall: A

"When young Anne Boleyn is sent to French court with her father and sister Mary, she believes she's
going for an innocent adventure. But when the ambitious Ambassador Thomas Boleyn leads them
into the highly sophisticated and sexually permissive court of Francois I, Anne quickly learns that they are merely pawns to be used for their father's own political purpose. Since all good English girls are expected to do their father's bidding, Mary becomes mistress to the outrageous French king and is ultimately seduced into his dangerous world by
the luxuries of court. But Anne has a different fate in mind.Anne is younger, cleverer, and stronger willed
than her elder sister, and with the guidance of chosen, powerful allies and unlikely friends, such as Leonardo da Vinci, she learns how to navigate the
challenges, passions and betrayals of court. As she grows into a beautiful young woman, Anne undergoes her own sexual awakening, each daring exploit taking her one step closer to the life
that is her destiny. "

I love that a book has finally given a vivid glance into the life of a young Anne Boleyn, it portrays the clever childs twisted life before she ascends to Queen of England and one of the most hated woman in history. I must warn readers
though this book is not for children due to the
sexually explicit nature of the novel. ADULT historical fiction avid readers do not let this book go unnoticed!!! Honestly, I could barely put the book
down, so enthralled was I, I cannot wait to read the rest of the authors sizzling series in the historical Rennaissance period.