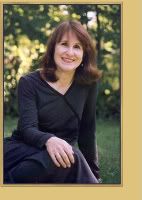 The first week of every month I like to introduce a new outstanding author that I have found. This month I have chosen a woman who truly can capture history in her novels along with scandal, mystery, and myth! So without further ado let me introduce you to Margaret George:
Margaret George is an

historian

and

historical novelist

, writing historical biographies. She was born in \Nashville, Tennessee. She lives with her husband in

Madison, Wisconsin

. She is the author of the bestselling novels The Autobiography of Henry VIII, Mary, Queen of Scotland and the Isles and The Memoirs of Cleopatra. The latter novel was adapted into a successful TV-movie starring Leonor Varela in the title role,

Billy Zane

as

Mark Anthony

and

Timothy Dalton

as

Julius Ceasar

. George is currently working on a novel about the life of

Queen Elizabeth I

during the later years of her reign, in the time of Shakespeare and the discovery of the New World, to be published in 2010. After the publication of her Elizabeth novel, George plans on writing a novel about

Boudicca

, highlighting Boudicca's conflict with Rome and

Nero

.
~info provided by Wikepedia.com
Margaret's novels delve into the lives of some of histories most notable figures. My favorite novel by her would have to be Mary Called Magdalene. I suggest unless your offended by religious reference books to give this one a try first! Although I must admit I was completely captivated by all her novels up to this date. If your interested in hearing more either about Ms. George or her novel you can visit her official website
here
!
LOL=Lots Of Love