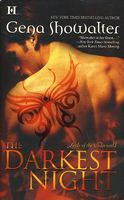 Title: The Darkest Night
Author: Gena Showalter

Reading level: Older Teens/Adults

Paperback: 384 pages
ISBN #: 978-0373772469
Received From: Bought It

Publisher: Harlequin

Group Genre: Mythology/Romance

Cover: B+

Overall: A+
"All her life, Ashlyn Darrow has been tormented by voices from the past. To end the nightmare, she has come to Budapest seeking help from men rumored to have supernatural abilities, not knowing she'll be swept into the arms of Maddox, their most dangerous member -- a man trapp ed in a hell of his own. Neither can resist the instant hunger than calms their torments . . . and ignites an irresistible passion. But every heated touch and burning kiss will edge them closer to destruction -- and a soul-shattering test of love . . ."
So the summary of this book does not do this book nor the series justice! This book is a perfectly balanced juggling act of everything I want in a novel history/mythology, drama, romance, intrigue and a cliffhanger ending that leaves you reaching for the next novel in the series. Ashlyn (love the name) is a little wimpy for my tastes at first and yes she can hear past conversations which is pretty cool but whats with the constant need to be taken care of (yuck). But she does come into her own later in the novel and did manage to live up to Gena's strong woman in charge MO. Now Maddox is the story of violence ( no really he is violence). He is one of 12 Lords and here's that back story:
"Long ago, twelve immortals warriors – each more dangerously seductive than the last -- stole and opened Pandora's box, unleashing the evil from within. Now they carry that evil within themselves. Violence, Pain, Death, Disease, Disaster, Misery, Doubt, Promiscuity, Defeat, Lies, Secrets, and Wrath. When a powerful enemy returns, they will travel the world in search of a sacred relic of the gods – one that threatens to destroy them all. "
And I know this may sound confusing but the novels do a wonderful job of setting you up with the storyline of the Lords. And if your a mythology junkie like myself this is the series you've been waiting for. What a fun and fresh new look into the story of Pandora's box and I cannot wait to read the whole series. Caution: These books are extremely addicting I read the first and bought the rest within a week of reading the first! I'm on book 2 now! (:
*A note these books are Adult Paranormal Romance and do contain more erotic material that I don't recommend for younger readers.

LOL=Lots Of Love