Teaser Tuesday is a weekly bookish meme hosted by MizB @ Should Be Reading. This is one of my favorite meme's as I have a love for all things that hold mystery! Unfortunately I've been quite busy at work the past couple of weeks but as I said before I'm back and ready to blog! This week I'm reading
Goddess Of The Rose
by P.C. Cast. Just about everyone knows Ms. Cast from her
House Of Night Series
. However; many don't realize she also has written books for a more adult audience as well. I stumbled upon this book after checking out her official website and without too much more rambling let the teasing begin:
"Mikki knew something was wrong as soon as she approached the rose bed that had been planted so close to the stairs that led from her balcony that the roses brushed against the marble railing. It was the same sick feeling she'd had the night before, only this morning it was far stronger."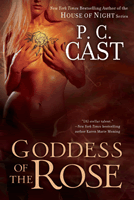 ~pg 146

Goddess Of The Rose

by P.C. Cast
This is a hodgepodge of a story; part Beauty and The Beast, part Greek Mythology, and pure fantasy. I'm very intrigued by P.C.'s older series of books they are exceedingly well written as were her
House Of Night Series
but have a little more realism to me based on my age! Plus anything that combines Greek or Roman Mythology and the modern day is my cup o' tea! but I hope you have a Terrific Tuesday and as always let me know you teasers for the week!
LOL=Lots Of Love