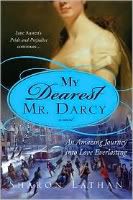 Title: My Dearest Mr. Darcy
Author: Sharon Lathan
Reading level: Adult
Paperback: 333 pages
ISBN #: 9781402217425
Received From: won through a contest
Publisher: Sourcebooks
Group Genre: Romance/Fiction
Cover: B
Overall: A+
"Darcy is more deeply in love with his wife than ever. As the golden summerdraws to a close and the Darcys look ahead to the end of their first year of marriage, Mr. Darcy could never have imagined his love could grow even deeper with the passage of time.Lizzy is full of surprises. She is unpredictable and lively, pulling Darcy out of his stern and serious demeanor with her teasing and temptation. Looking ahead and planning for celebrations and life events large and small, Lizzy can still catch Darcy unawares when he least expects it.But surprising events force the Darcys to weather absence and illness, and to discover whether they can find a way to build a bond of everlasting love and desire. The romance and bewitchment is never-ending..."
This is the third installment to Lathans Darcy Trilogy. And don't worry if you haven't read up to this point (although I recommend you do) because Dr. George Darcy gives a full summary of whats happened thus far at the beginning of the novel. Once again we find our lovers in the throws of what else but love. However; I think this novel may be my favorite so far because it shows so much more than their love.
My Dearest Mr. Darcy is packed with love, histories behind beloved characters and even some scandals to boot. I couldn't help but once again fall right back into Pemberly and become part of the family once more. I believe its the authors writing style but you feel a sense of belonging to the Darcy's world that I haven't experienced in other Pride & Prejudice sequels. And once again I give a great deal of credit to the strong characters who by themselves could stand alone and are furthermore enhanced through Lathans third book. I truly relished the emergence of George as a main character he adds life and knowledge to the novel. Not to mention he's a little bit of a comedian and I couldn't help but smile if he were on the page I was reading. Confession time: I think although I love Elizabeth and Fitzwilliam; George is my new favorite and I wish he were my uncle!
I've enjoyed my time with the Darcy's through the authors eyes immensely. It seems sad to know I have to wait for the next book to be released. This trilogy made me remember the first time I read Pride and Prejudice and renewed my love for all things Darcy. And I really enjoyed the way the author keeps the books authentic and realistic. She truly does a magnificent job capturing Austen's beloved characters and I can't wait to read what's next for my favorite couple!
LOL=Lots Of Love