Teaser Tuesdays is a weekly bookish meme, hosted by MizB of Should Be Reading. This week I'm reading
My Dearest Mr. Darcy
by Sharon Lathan ( who consequently is my author of the month). I'm almost done so look for a review from me in a few days. But for now here's my teaser:
"No answer was forthcoming; in fact, she did not move. Alarm bells began to toll in his fogged mind and with a jolt he was wide awake."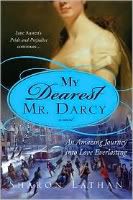 ~pg. 275 My Dearest Mr. Darcy by Sharon Lathan
Coincidentally this is exactly where I left off in the book.
This is the authors third installment and I can't wait for the fourth to be released. I'm on pins and needles here! But I've got to get back to my book because I just have to find out what happens after these two sentences.
LOL=Lots Of Love