Teaser Tuesdays is a weekly bookish meme, hosted by MizB of Should Be Reading. This week I'm reading
The Secret Diary Of Anne Boleyn
by Robin Maxwell. This teaser is a flashback as Elizabeth finds her mothers lost journal and is reading her mothers story. So here's my hit/fic teaser of the week:
"In fields, in muddy bogs her trances came, they said. She'd fall upon her knees and visions -Heaven, Hell, Purgatory, the souls who wandered there - were shown to her."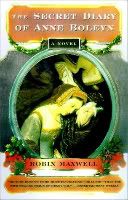 ~pg 83 The Secret Diary Of Anne Boleyn by Robin Maxwell

I haven't read this far yet as I'm recovering from vertigo and couldn't read for 5 days. But now I have so many questions and can't wait to finish the book. But I'll be taking it slow ugggh! Don't you hate getting sick. But let me know your teasers for the week!
LOL=Lots Of Love