Teaser Tuesdays is a weekly bookish meme, hosted by MizB of Should Be Reading. This week I'm reading (well technically re-reading) Tempted by P.C. and Kristin Cast. It is the sixth book in the House of Night series, which I seem to be obsessed with. Without further blabbering here's my teaser for the week:
"His head bowed, and he didn't seem to know I was there. As if I couldn't stop them, my feet moved toward him, and as I approached, I realized that he was kneeling exactly where I'd b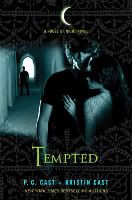 een standing when I'd flung myself off the rooftop."
I'm actually re-reading the series because the newest novel Burned will be coming out soon and I haven't read these in awhile. I'm kinda catching up on old acquaintances so to speak. And these books are so spellbinding I'm almost done in a matter of days with the series thus far. So I hope you enjoy my teaser and let me know yours as well! As always I love trying to read your mind!
LOL=Lots Of Love