Teaser Tuesdays is a weekly bookish meme, hosted by MizB of Should Be Reading. This week I'm reading The Wild Irish by Robin Maxwell. I really enjoy Maxwell's books and her prospective into history. This novel is the story of the Irish-English conflict and is told from many different perspectives (which is a little different from her usual novels). So far I'm intrigued and can't wait to see how the lives of the characters pan out. But for now here is my teaser for the week:
"Guards were abounding that sunny morning, posted at the castle gate and all through the gardens, which were milling with English settlers and their Irish sympathizers. But my manner was calm and subdued, and I slipped in with no fuss a'tall, with not a soul recognizing me for who I was."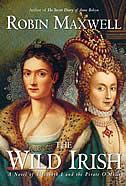 ~pg. 175 The Wild Irish by Robin Maxwell
This book is intriguing because although it hasn't veered away from Elizabeth it focuses on a little told time in her life. I really hope the rest of the novel captures me as the the first half did! Well happy Tuesday everyone and I can't wait to see everyone's teaser for the week!
LOL=Lots Of Love