Teaser Tuesdays is a weekly bookish meme, hosted by MizB of Should Be Reading. This week I'm reading
Elphame's Choice
by P. C. Cast. I really love her
House Of Night series
and figured I'd try her new
Partholon series
to see if she could work her magic on my mind twice. So far so good but here's my teaser for the week and maybe you can make your own assumptions:
"Elphame saw the winged being glance at her, and she saw too, that he realized that the boar was driving close to where she had fallen. With a terrible hissing sound, the winged creature leaped one last time, directly on the boar's back."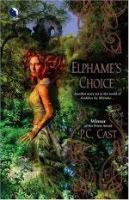 ~pg 157 Elphame's Choice by P.C. Cast
Right now I'm enthralled with this book a crazy mixture of mythology, paranormal, fantasy, and romance. I hope the plot continues to thicken but for right now I really want to get back to this book!!! So funny what a good book will do to you it's kind of a drug and right now I'm definitely addicted. So I can't wait to see your teasers for the week but at this moment I have to find out what happens in this novel!
LOL=Lots Of Love