Teaser Tuesdays is a weekly bookish meme, hosted by MizB of Should Be Reading. This week I'm reading
Brighid's Quest
by P. C. Cast. Last week I finished her first book in the Partholon series
Elphames Choice
. Since then my head has been up in the Partholon clouds I just can't get enough and have a NEED to know what happens next. I love how each book is a full complete story but leaves you wanting more so I'm back again this week in Partholon to discover the centaur Brighids story. And without further ado here's my teaser for the week:
"Tonight she would sleep soundly. Tomorrow she would consider all the ramifications of the turquoise stone and the soul-retrieval and the damned silver hawk she conveniently been to busy to mention except to Cuchulainn. Tomorrow would be soon enough......"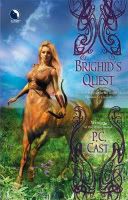 ~pg 295 Brighid's Quest by P. C. Cast
I know I cheated a little and gave you an extra sentence, but it needed that little push to make it a teaser. And what if tomorrow isn't soon enough? I know overly dramatic me can't follow the rules. However; this book is so good so far that I think it deserves the lil extra ooomph! Let me know what you think and as always let me know where I can find your teasers at! I know last week I bought 2 books based on some of your teasers!
LOL=Lots Of Love