Teaser Tuesdays is a weekly bookish meme hosted by MizB at Should Be Reading. This week I'm reading
Between Two Kingdoms
by Joe Boyd. I received this book via FSB Associates and was quite interested in the message it portrays. Although the book is a fantasy novel it has roots based in religion which I found fascinating and intriguing. So far I'm very interested in the book and it's hidden messages and hope this novel will become a success story! But enough of my jibber-jabber time for my Teaser Tuesday:
"Simon's fingernails morphed into talons of an eagle, and his tongue split down the middle like a snake's. In a fit of rage, he struck the mirror against the corner of a nearby table and threw the shattered square at Roger's face."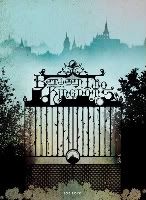 ~pg 108

Between Two Kingdoms

by Joe Boyd
I really like this book so far because it's not in your face religion but has a very subtle under-tone that if you know it's there is very visible. However; just to read this book without knowing I think you'd still enjoy the way it is written and the story it conveys. But let me know what you think? Can you tell by the teaser this book is about religion because I sure couldn't! And as always let me know your teasers for the week I always enjoy what everyone comes up with!
LOL= Lots Of Love