Teaser Tuesdays is a weekly bookish meme hosted by MizB at Should Be Reading. This week I'm reading
Angels, Vampires, and Douche Bags
by Carla Collins. Carla is a hilarious Canadian comedian who tells it like it is in her new book. This is her uplifting and hilarious story that deals with the three great forces in our lives. But let's get to the teaser because it's practically killing me not to give ya a sneak peek:
"If you want to ward off your vampire, prayer never hurts. You could even play Duran Duran's Save A Prayer For Me Now, as Duran Duran will ward off pretty much everyone."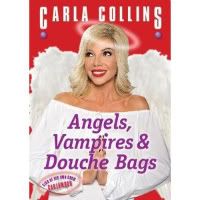 ~pg. 85

Angel, Vampires, and Douche Bags

by Carla Collins
So far I am loving this book it has a very inspirational message while letting you laugh your @$$ off. And at the end of each part of her trilogy of people in your life that influence you there is a little joke list (which is where my teaser came from). I think this might just become my favorite self-help book!
LOL= Lots Of Love