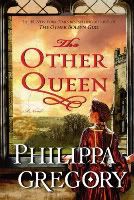 Title: The Other Queen
Author: Phillipa Gregory
Reading level: Young Adult
Paperback: 433 pages
ReceivedFrom: I Bought it
Publisher: Touchstone
Genre: Historical Fiction
Cover: A
Overall: B-

"Two women competing for a man's heart…Two queens fighting to the death for dominance…
The untold story of Mary, Queen of Scots. Fleeing rebels in
Scotland on Queen Elizabeth's false promise of sanctuary, Mary, Queen of
Scots, finds herself imprisoned as the "guest" of George Talbot, Earl of
Shrewsbury, and his indomitable wife, Bess of Hardwick. Soon the newly
married couple's home becomes the center of intrigue and rebellion against
Elizabeth, and their loyalty to each other and to their sovereign comes into
question. If Mary succeeds in seducing the earl into her own web of treason, or
if the great spymaster William Cecil links them to the growing conspiracy to
free Mary from her illegal imprisonment, they will all face the headsman.
Using new research and her passion for historical accuracy, Gregory places the
doomed queen into a completely new tale of suspense, passion, and political
intrigue."
I really wish I could say I enjoyed this book as much as previous novels by Phillipa Gregory. To be honest though I think there are far better books on Mary Queen of Scots out there. ( Try Mary Queen of Scotland and the Isles by Margaret George)
The novel was still intriguing and I loved the views of Bess and George (her captors). They were probably the most interesting part of the book, as you almost never here from the British people who were burdened by keeping a Queen hostage.
Yet I really believe the novel was one sided portraying the Scots Queen as a flaky, evil, lazy, and pretentious conspirator. She was so much more to so many people including myself who has scots blood. I understand the author is trying to show the lesser seen side of the Queen of Scots; but I think the book would've been much better had the author included more than just her captivity in England.