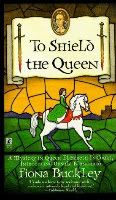 Title: To Shield The Queen
Author: Fiona Buckley
Reading level: All
Paperback: 324 pages
Received From: I bought it @ The Book Rack
Publisher: Pocket Books
Group Genre: Historical Fiction/Mystery
Cover: D
Overall: A
"Rumor has linked Queen Elizabeth I to her Master of Horse, Robin Dudley.
And what rumors, at that: but for his ailing wife, Amy, Dudley would wed her
majesty, the gossip mongers are whispering. To quell idle tongues, Elizabeth
dispatches Ursula Blanchard to tend to the sick woman's needs. But not even
Ursula can prevent the "accident" that takes Amy's life. Did she fall or was she
pushed? Was Ursula a pawn of Dudley and the Queen? Suddenly Ursula finds herself at the center of the scandal, trying to protect Elizabeth as she loses her heart to a Frenchman who may be flirting with sedition against her Queen. She can trust no one, neither her lover nor her monarch, as she sets out to find the truth in a glittering court that conceals a wellspring of blood and lies."

This was an awesome book.
A note to readers
before I begin : This book does start out really slow but
definitely
picks up fast. The way Buckley infuses the turmoil of Queen
Elizabeth's
early reign and a fictitious mystery is
seamless
. The drama unfolds in every turn of the page. This was one of my Tuesday Teaser books and the
intrigue
did not let me down.
Ursula Blanchard the main
character
is a strong, witty female heroine who is trying to find justice amidst gossip, murder, and betrayal. You feel her pain as she's a recent widower (in a time where women were just an accompaniment to their men) trying to make her way in a torn apart kingdom and support her daughter. She finds herself doing very dangerous jobs, sometimes risking her own person for those she's sworn loyalty to. A very
relatable
figure, Ursula has many depths to her character and her loyalty, persistence, and sense of self-
perseverance
endear Ursula to the reader.
Like I said before the novel starts off very slow. I actually thought at first I wouldn't like this book, however; when I did my Teaser Tuesday I was
soo
intrigued I decided to read on. And I'm
sooooo
glad
I did. Buckley's
suspenseful
writing makes me want to run out and purchase the next book in this series. I NEED to know what happens next in the twisted web Ursula has woven. If your looking for a Elizabethan suspense novel I suggest you pick this one up since its the first in this series. Just make sure your ready to get through the first 5 chapters (each chapter is not that long) which are slow.