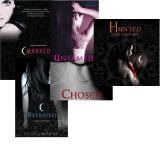 Series: The House Of Night Series
Author: P.C. and Kristin Cast
Books Included: Marked, Betrayed, Chosen, Untamed, Hunted and Tempted
Reading level: Young Adult
Received From: A Christmas Present from my sister Rachel
Publisher: St. Martins Griffin
Genre: Fantasy/Horror/YA/Mystery
Cover: A+++
Overall: A+++++
"HOUSE OF NIGHT is a thrilling, New York Times bestselling book series that follows 16-year-old Zoey Redbird as she is "Marked" by a vampyre tracker and begins to undergo the "Change" into an actual vampyre. She has to leave her family in Broken Arrow, OK, and move into the House of Night, a boarding school for other fledgling vampyres like her.It's tough to begin a new life, away from her parents and friends, and on top of that, Zoey finds she is no average fledgling. She has been Marked as special by the vampyre Goddess, Nyx. Although Zoey has awesome new powers, it's hard to fit in when everyone knows you're "special." As Zoey tries to make new friends and maybe find a hot boyfriend (or two), she comes up against all kinds of evil, from the perfect-looking, super-popular girl with not-so-faultless plans, to the mysterious deaths happening at the House of Night and all over Tulsa. Things at the House of Night are not always what they seem. Can Zoey find the courage deep within herself to find the truth and embrace her destiny? "
Thrilling, Amazing these words can't even begin to describe the house of night series. I loved these books!!! The main character Zoey is totally relatable and shes in high school and I'm almost 23 ha ha. The author has used her own voice but also borrowed teenage input from her daughter to tell a breathtaking journey with tons of unexpected twists and turns.
It's a pleasant mixture of Harry Potter's Hogwarts meets Twilights' vampire love stories. I know it sounds cliche that Zoey is a conflicted teen who rises to the top only to fall from good graces; but there is so much more to the plot in each book. You begin to associate with all the characters (even snooty Aphrodite), and the suspense might just kill you. Like good food I enjoyed the simplicity these books portrayed but after one bite you'll see there is so many different layers.
I literally read these books (yes all 6) in less than a week. I am on pins and needles waiting for the next installment. (Kudos to Rachel for turning me on to this series!!!) And I have a sneaky suspicion that very soon we'll be seeing a movie version of these books. ( I would be one of the first in line for tickets.)
But if you haven't read these books yet (what r u waiting for), go buy them show the authors some love, and I'm sure you won't be disappointed.