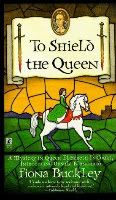 So here we go my first teaser tuesday. I'm so excited! I hope you enjoy my li' bit of the book as much as I do.
(p.s. This just makes me want to read faster to find out what is going on in pg. 146)
"She was there at the foot of the staircase, a sad, huddled heap. She did not look as though she had been thrown down the stairs, for her clothing
was perfectly tidy, white headress neatly in place, the russet taffeta skirts on
her Sunday gown decently disposed."
~pg.146 "To Shield the Queen"