I'm not one to comment on my daily life to much but this weekend was just
tooo
amazing not to share. Plus it's book related sorta?
As you know I work in a bakeshop and We create some pretty crazy stuff and it's ALL edible. But this week the bakeshop produced a
Neverland
baby shower cake and accompanying desserts and I just had to show you guys all our hard work! But before I do a
lil
' history on the novel and play featuring Peter Pan:
Peter Pan is a novel and play written by Scottish novelist and playwright J. M. Barrie(1860–1937), and first presented on the stage in 1904. In 1911, Barrie novelized the
play into
a book, Peter Pan and Wendy. It is a story of a mischievous little boy who can't
grow up
.
And without further adieu the pics of the bakeshops hard work. First we have the amazing cake
that's
all edible. (And this cake is huge guys it took 5 people to lift it)!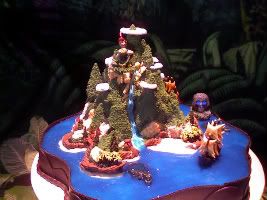 Next I put a closeup view of the cake with Peter on it (and hes made out of white chocolate and edible paint)!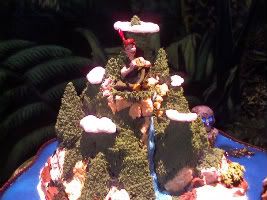 And finally the accompanying
pre
-plated desserts which feature Hooks pirate ship made from white chocolate!
I really hope everyone enjoys a little insight into my daily life. Yet more than that I hope I get at least a few mouths to water just a bit at the lovely pastries our bakeshop can put out!
LOL
=Lots Of Love