Teaser Tuesdays is a weekly bookish meme, hosted by MizB of Should Be Reading. This week I'm reading a sequel to the classic I had teased about last week. The novel is called
Loving Mr. Darcy: Journeys Beyond Pemberly
and is part of the Darcy Trilogy which recounts what happens after Darcy and Elizabeth are engaged. So here's my teaser:
"Darcy was stunned speechless. Lizzy was equally as surprised but collected her wits before her husband, rounding the desk to clasp Marguerites hand."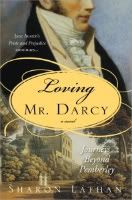 ~pg 265 Loving Mr. Darcy by Sharon Lathan


This book is soooo endearing. I've always wondered what became of my favourite Pride And Prejudice couple and now I feel upon reading these books to be sharing they're happiest times in life. So far I breezed through the first book Mr. and Mrs. Fitzwilliam Darcy (not pausing to put it down) and have equally enjoyed this novel. Look for my reviews soon and let me know your thoughts and teasers of the week!


LOL=Lots Of Love