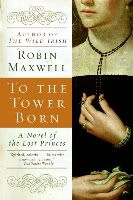 Title: To the Tower Born: A Novel of the Lost Princes
Author: Robin Maxwell
Reading level: All
Hardcover: 301
ISBN #: 9780060580520
Received From: I bought it @ Thrift Books
Publisher: Harper Collins
Group Genre: Historical Fiction
Cover: B+
Overall: A-
"Debated for more than five centuries, the disappearance of the young princes Edward and Richard from the Tower of London in 1483 has stirred the imaginations
of numerous writers from Shakespeare to Josephine Tey and posited the question:
Was Richard III the boys' murderer, or was he not? In a captivating novel rich
in mystery, color, and historical lore, Robin Maxwell offers a new,
controversial perspective on this tantalizing enigma. The events are witnessed
through the eyes of quick-witted Nell Caxton, only daughter of the first English
printer, William Caxton, and Nell's dearest friend, "Bessie," daughter of the
King of England, sister to the little princes, and founding ancestress of the
Tudor dynasty. With great bravery and heart, the two friends navigate this dark
and dangerous medieval landscape in which the king's death sets off a battle
among the most scheming, ambitious, and murderous men and women of their age,
who will stop at nothing to possess the throne of England."
Robin Maxwell has done it again (at least for me!!). In this novel we are taken to a civil war in England; Lancaster vs. York. Nell Caxton a daughter of a bookseller (to the royal family) carefully narrates us from the Tower cell of Queen Elizabeth of York back in time. King Edward is dead and the young prince Edward is now King. However; warring uncles try to seize the crown and a renegade usurper appears seemingly out of nowhere. England is in turmoil and it's up to Nell to find all the solutions using all her intellect, and connections to find and free the true royal family at last! (I won't give away anymore because it might spoil the book)
"To the Tower Born" like Robin Maxwell's previous novels I've reviewed did not disappoint. Once again I am lost in another time period. I am taken into the confidence of a young future Queen of England and her best friend Nell. I love the "what if?" in this story. It makes you wonder, what happened to these princes? Why has one family torn itself into a million pieces? Nell is a wonderful character (and actually historically true) full of courage and cunning. She keeps you grounded and ever-questioning. Bessie her other half is the exact opposite (but you know what they say about opposites) a spitfire true to her emotions at all cost. The people places and action of this book will keep you on the edge of your seat!
The novel flows easily and was a short read for me. (A very relaxing day-off-work piece.) I did want more to this novel wishing their was a sequel ( like her Elizabeth novels) but maybe it will come in time. If you have time and are looking to get into hit/fic of just love it like I do, definitely check out this book.
LOL=Lots Of Love